Steven Dietz, Director Steven Dietz is an author, educator, pastoral counselor, musician, and ordained Christian minister who has pursued many avocations, including an off-Broadway performance career, during and following his seminary studies at Minnesota Bible College, and undergraduate studies at the University of Minnesota in Psychology and English Composition, Music and Theatrical Arts Performance. While maintaining a private counseling practice he served for ten years as the Administrative Director of the Academy of Performing Arts at First Christian Church in Phoenix, and was President of the American Theatre Association's Small Theatre Division. For seven years he sang for High Holy Day services at Temple Solel in Scottsdale, Arizona.
During his tenure as Director of the Psychology Department of MicroMed Corporation, Steve received an Honorary Ph.D. in Clinical Psychology at the publication of the second edition of his fifth book, Take These Broken Wings and Learn to Fly, and was recognized at the World Conference on AIDS in Sweden as an international authority on the Psychology of AIDS. He has attended five universities, served as pastor/music director for four congregations; taught and lectured at the university level across the country, and was the founder of the hospice program at Western Care Institute. He has also served as an advisor for the Boy Scouts of America, the American Red Cross, the International Ecumenical Counsel, the State of California Spouse Abuse Recovery Program, and in the development of counseling services for several federal penal institutions throughout America, including Joint Venture which provided mental health support in 21 States to over 900 guards and inmates. Currently semi-retired from clinical practice, Steve is the owner of Earth Village Creations, which provides web hosting and Internet connectivity for 128 international corporations, and serves as a human resources consultant in addition to his volunteer work at Chaparral Christian Church in Scottsdale, Arizona.
Terri Silas Eddie, Assistant Director Terri Silas Eddie was ordained an Itinerant Deacon in the AME Church (African Methodist Episcopal) in 2007. The former pastor of New St. John AME Church in Chandler, AZ, she currently serves as an Associate Minister at Greater Bethel AME Church in Phoenix, AZ. With more than 15 years of experience facilitating/teaching adult bible studies in a Life Application format, she is passionate about equipping the saints for service through the teaching and preaching of the Word of God.
Rev. Silas Eddie has a special heart for women's ministries, and for empowering victims of domestic violence through biblical counsel, employment networking, and awareness training. She has goals for the development of global ministries to both of these ends. She served as an officer in the Desert Mountain Conference AME Women In Ministry (WIM) organization from 2007-2012. She holds a Bachelor's degree from Arizona State University, with dual concentrations in Communication and Business, and an Associate degree in Computer Science from Sinclair Community College in Dayton, OH. .
The mother of three young adult sons, Terri is also a certified commercial real estate appraiser; she has been employed by the Maricopa County Assessor's Office, Litigation Division since 2003. She is a member of the IAAO (International Association of Assessing Officers). Terri also serves as coordinator for women's ministries and spiritual empowerment.
Milton M. Masson, Business Advisor Milt has had a career in management spanning more than thirty-five years. As a principal of Jefferson Associates, he managed a spectrum of technical, financial, and regulatory procedures. Prior to his association with Jefferson Associates, he was a Principal and the President of Ellers & Masson, a large regional engineering firm, and a Washington, D.C., management consulting firm, where he supervised the activities of more than 100 professionals. He was the co-founder of PolyTek Rubber & Recycling, Inc.
Milt was a member of Ronald Reagan's Presidential Transition Team, a Reagan Appointee as a Director of the U.S. Synthetic Fuels Board, and a Director of the U.S. Legal Services Board of Directors, and has served on multiple boards and commissions,. He is a past president of the Arizona State Chamber of Commerce, and served on the National Legislative Affairs Committee of the National Society of Professional Engineers. He is a graduate of Christian Brothers University (BSEE) and attended the University Of Missouri Graduate School Of Business. He is currently on the Board of Regents for the Fund for American Studies, is serving a two year term as Chairman of the Board of Family Service Agency of Arizona, and is an elder at Chaparral Christian Church.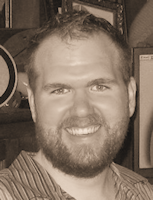 Andrew Langdal, Videographer and Sound Technician Andrew was born in Michigan, but moved to the Arizona desert at a young age before he could grow tired of snow. To get his winter fix he began his undergraduate studies at Northern Arizona University and ended up graduating from Arizona State University with a degree in Film and Media Theory with an emphasis on media production. Andrew specializes in landscape and cityscape images, and although he refers to himself as a self-taught photographer it is clear that his profound faith in God and the miracle of His creation is too wondrous and its people too unique not to capture as much as possible. His excellent work with a camera clearly illustrates photography as one of the tools he uses to share the extraordinary of creation with others. Andrew will assist as an artistic director in the production of the Community Experience videos.
Andrew also serves as a contract videographer and photographer for the Internet provision company, Earth Village Creations.
Stephan Bremer, Youth Coordinator and Special Events Assistant Stephan has been a part of Chaparral Christian Church since he started school as a first grader but he shares the insight that it wasn't until high school that he started to explore his faith more deeply. He is currently attending Arizona State University, pursuing a degree in medical studies, and is a coach and a member at CrossFit Chaparral. Stephan loves people and his open personality shows most often in making new friends through CrossFit and social opportunities that enable to form relationships with people who he normally might not have any connection with due to age difference. Stephan is also an Eagle Scout, and he loves everything outdoors; mountain biking, hiking, camping, and almost anything that requires physical prowess really is fair game for him. He knows that God gave him his life to live to the fullest and that is his primary focus. Stephan will serve as youth coordinator and special events assistant with Exploring Community.
Frank Shirvinski, Ph.D. (ABD) received his bachelor's degree in Aeronautical and Aerospace Engineering from Purdue University and holds degrees in Old Testament/Hebrew Bible from Emmanuel School of Religion, Hebrew Bible and Intercultural Studies from Emory University, and will complete his doctorate through the University of Georgia in Historical Linguistics. Having served as an Adjunct Professor in Hebrew at Fuller Theological Seminary, Frank Shirvinski also taught Biblical Studies at Atlanta Christian College. He began training JiuJitsu with Sensei Poage in 2004 and earned his 1st degree black belt in 2009. In addition to martial arts training, Frank is a CrossFit Level 1 Trainer and coach with CrossFit Chaparral. Frank served as an Associate Minister at First Christian Church in Cumming, Georgia and is currently the Senior Minister at Chaparral Christian Church in Scottsdale, Arizona.
Rabbi Jessica Zimmerman Graf, Director of Congregational Engagement Rabbi Jessica Zimmerman Graf is Synagogue 3000's Director of Congregational Engagement. She is passionate about helping synagogues transform into kehillot kedoshot - sacred communities - and has been involved in cutting-edge conversations about transformation throughout her time as a rabbinical student and a rabbi. In her role, Jessica is the go-to person for all S3K public contact. She answers questions about how S3K can help, represents S3K in the Jewish community, and is the lead for the Next Dor Initiative. Much of Jessica's time is spent representing S3K and Next Dor out in the world, creating relationships for S3K with top Jewish thinkers. As a student at the Hebrew Union College-Jewish Institute of Religion, Jessica learned with Synagogue 2000. As a fellow in CLAL's interdenominational conversations on Jewish life in America, Jessica engaged in new kinds of thinking about the future of American Judaism. She went on to serve as a Marshall T. Meyer Fellow at Congregation B'nai Jeshurun in Manhattan and then as the Grace and Horace Goldsmith Rabbi at Congregation Beth Israel in Phoenix, Arizona. During her time in Phoenix, Jessica became a STAR Peer Fellow and continues to be involved in the Fellowship as an alumna. Jessica served as the rabbi at the World Union for Progressive Judaism congregations in India and Costa Rica. She also served as the student rabbi at the Community Synagogue in Port Washington on Long Island, at Congregation Sherith Israel in San Francisco and in The Juneau Jewish Community, in Juneau, Alaska. Rabbi Zimmerman graduated from Columbia College, Columbia University in 1995, with a degree in art history. She spent two years doing research in astronomy for the Department of Astronomy and Astrophysics at Columbia and at Cerro Tololo Interamerican Observatory in Chile before beginning her rabbinical studies in 1997, at Hebrew Union College-Jewish Institute of Religion in Jerusalem. In addition to helping synagogues reshape their visions, Jessica is very involved in interfaith issues, both learning and teaching. She has enjoyed her work with the Center for Jewish-Christian Understanding in Connecticut and it inspired her to co-found, with Rev. Frank Shirvinski, Gesher: An Interfaith Bridge to Understanding. Jessica is interested in helping to increase interfaith dialogue in America and Israel. She is an active member of the Steering Committee for New Generations of the New Israel Fund.
Hulda Hime, Editor and Publications Advisor A fourth-generation Arizona native, Hulda grew up on cattle ranches. Working with livestock, witnessing the seasons and wonders of life and nature (for man and animal), and living at times without the luxuries we so often take for granted (electricity, TV, central heating) gave her the first, and most poignant, revelation as to the existence of our God. Raised as a member of the Church of Jesus Christ of Latter Day Saints, the family also frequented Cowboys for Christ gatherings.
Hulda attended Northern Arizona University where she studied Technical and Creative Writing and Political Science. For more than 25 years, she has been a writer, manager, and information developer in the software industry, was co-owner of a consulting and training company, and freelanced as a personal trainer. She has also travelled and studied in Israel and Jordan. Hulda has taught Sunday school, worked with juvenile prison ministries, served on the board of Bethany Christian School, and currently serves as a committee leader at Chaparral Christian Church. She is also a published poet. Among her passions are fly fishing, sports, cooking, learning, road trips, water and wilderness, and her awesome family. Fortunately, her husband and best friend, Stan, shares these same passions.
Four years ago, Hulda traveled to the Holy Land. Having often said that she couldn't really claim a hometown, Hulda returned to say "I think I may have found it."